Holiday in Croatia
Some people have a bucket list of where they'd always dreamed of visiting. I have no list. Things cross my desk, I read an article in a travel magazine or the New York Times, and a destination calls to me.
This is how it was with Croatia.
I didn't do a lot of research and didn't know what to expect. What I discovered were warm, lovely people, delicious cuisine based on use of locally sourced and fresh ingredients, exquisite picture perfect postcard settings and even the walled city where Game of Thrones was shot.
We started in Split which is a very busy transit point for visitors to the Dalmatian Coast. It's bustling with people most of the time, but the days we were there it rained so there were fewer people out and about.
This gave us the perfect opportunity to explore the 4th Century Roman Palace of Diocletian. It's gone through many iterations but the basic maze-like structure and original palace walls are in tact. What's amazing is the fact that people still live and work within the walls of the ancient Palace.
As interesting as the Roman ruin was, my favorite memory of Split was my first taste of a seafood stew called Gregada. Wow, what a revelation! Little did I know that at our next stop in Hvar, I would learn to make this superb dish.
We had to get up very early to board a ferry for a 2-hour cruise to our next stop: Hvar. I'd like to tell you that the scenery on the Dalmatian Coast was incredible but it was still pouring rain during this journey. So we spent the entire trip below deck, drinking hot tea and recovering from our 6:00 a.m. wake-up call.
Finally, we arrived at the island of Hvar. It was so glorious, a world unto itself! We had heard it had a microclimate which gave it perfect weather. I didn't believe it, but it was true. The town comes right into the harbor and from our window we watched the huge yachts and water taxis pull in and out of the harbor and saw the village slowly wake up in the early morning hours, while the partiers were just going to sleep.
This is a magical place where it seemed like there was endless music, joy and sunshine. It was also the place where I had the great privilege of taking a cooking class with a master chef and long time resident of Hvar. (More about that later.)
As hard as it was to leave Hvar, it was another short ferry ride to our next stop. We were headed to Dubrovnik with a stop along the way in the village of Ston for oysters, grilled shrimp and a piece of the famous Ston Cake.
Our driver was watching me as we approached Dubrovnik. He waited for my reaction to my first sight of the walls.
I just might be the only person on the planet who doesn't know that the television show Game of Thrones was filmed in Croatia and that the city of Dubrovnik is one of the most important locations.
It's another remarkable city. I was in awe of its beauty, its design and by the fact that people still live and work in this walled city. Some residents are understandably annoyed or bemused at the huge influx of tourists to their home town. Nevertheless, they are warm, generous, helpful and endlessly patient with us tourists.
While staying in Dubrovnik, I took a day trip to Montenegro which has a totally different and more intense energy. It was has a cat museum, the first I've ever seen.
A few more magical excursions and we were making our way toward the Dubrovnik Airport. But, not without a stop along the way to the village of Cavtat, for yet another delicious meal while we watched the small boats come and go.
This was an amazing first visit to Croatia, but definitely not my last.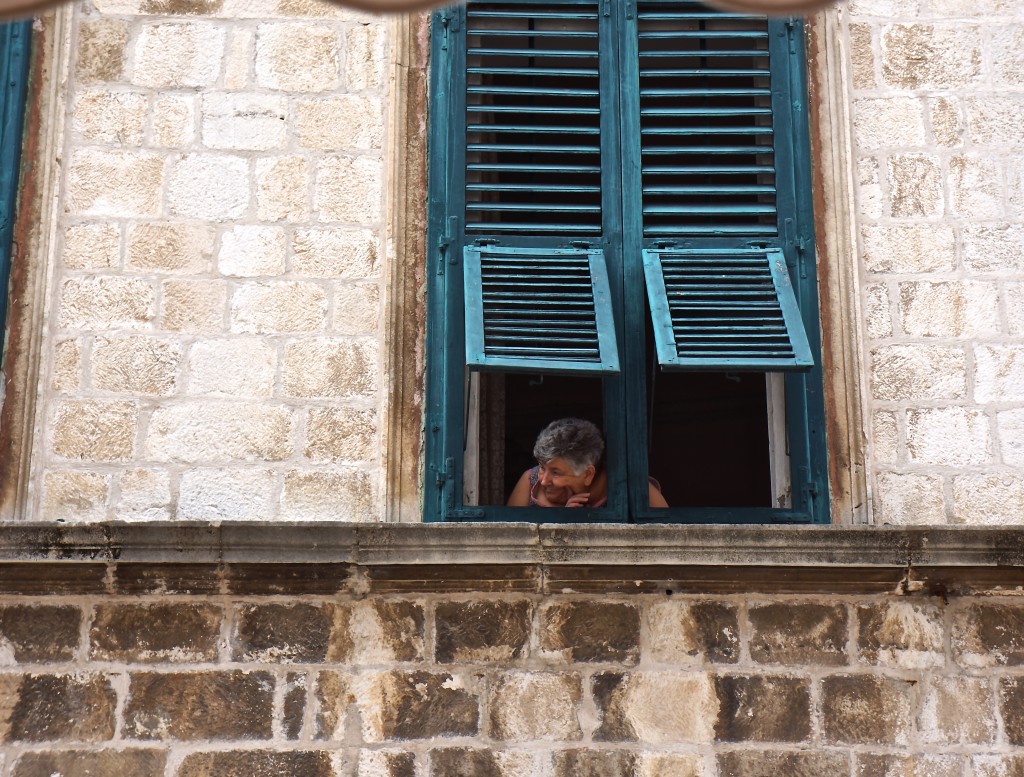 Croatian Cuisine
"I have never eaten a piece of frozen fish in my life," said the guide who met us at the airport and escorted us to our hotel in Split.
This was my first inkling of what to expect in Croatian cuisine. The guide knew I was interested in food and had read my blog.
Fresh, locally sourced and always seasonal: all the goals we in the West, or at least the Westside of Los Angeles, strive for.
We saw gorgeous fields of lavender and sampled fresh lavender honey. We saw wild bushes of caper berries and found the capers in jars at the local markets.We saw luscious seasonal fruit and ate the best nectarines and peaches we had ever tasted.
We met women from small villages who brought home-baked goods, filled with seasonal greens and feta, to the weekly open air markets.
In all the open air markets we also found homemade candied orange or lemon peel. This is a slightly bitter, crunchy, sweet, chewy slice of deliciousness. My Croatian guide and I tasted samples at all the stalls until we found the one that had the perfect combination of sweet, orange and bitter. I brought home one bag to photograph and serve at my next party, but it disappeared before I could take any pictures. My friends and taste tasters did their job well.
Each night at dinner, the fish was so fresh, there was no "catch of the day" but catch of the hour. Vera wasn't as excited as I was to meet the whole fish before it went to the grill, but I thought it was great.
We also ate amazing local oysters, prepared three ways and a special Ston Cake made from walnuts, and almonds, and pasta.
Everywhere we went, there was an abundance of just caught fish, glorious succulent fruit, seasonal vegetables and a philosophy that says "use everything you have and honor the season".
My Cooking Class in Hvar
Every time I travel, I try to take a cooking class with a local chef. I never really know what to expect and this time was no different.
On my last day in Hvar, I was fortunate to spend a morning cooking with Ivan Buzolić and his daughter Maja Mačković, in the kitchen of their restaurant the Golden Shell (Zlatna Školjka).
I had no idea as I made my way to the restaurant that Ivan was the founder of the Croatian Master Chefs Association, that he had won gold medals in international competitions, that he mentored young chefs.
I also had no idea that the Mediterranean diet from the island of Hvar was protected by UNESCO as part of intangible cultural heritage.
Pretty impressive credentials!
When I arrived, I was invited into the tiny kitchen and immediately put to work pinching heads off the smallest shrimp I had ever seen. The heads went straight into the stock pot. This was my first instruction in using everything, throwing nothing away and what Ivan called "economy in the kitchen". I peeled some of the shrimp for ceviche and the shells went right into the pot.
There were no written recipes, just lots of information and hands-on experience. With total ease and comfort, Ivan and his daughter moved me through lots of dishes. He talked about sea salt, olive oil and herbs being the holy trinity of Croatian cooking; that's all you need to make a great meal.
He pulled out a jar of crushed garlic and chopped parsley mixed with olive oil that is always on hand in his kitchen. Now, it's on hand in my kitchen too.
He educated me about fish, telling me that seafood must swim three times: once in the sea water, once in olive oil and once in wine (and the wine can be the glass you are drinking as you eat).
He showed me how to make a rustic tomato sauce, removing the tomato skins as the tomatoes cooked, and adding them to the ever growing stock pot.
As if by magic, he produced an old handheld pasta machine and proceeded to whip up a patter of fresh pasta. No fuss, no big deal — just another dish to go with lunch.
He made gregada, the famous Croatian fish soup which I will be sharing with my friends.
In a kitchen, one third the size of mine, in only a few hours in the morning, we made gregada, tomato sauce, tomato soup, homemade pasta, shrimp ceviche and crispy sauteed shrimp. We then sat down to lunch and enjoyed all the dishes.
Delicious crisp Croatian wine flowed as we savored the meal. As Ivan said, "I cook with wine and sometimes I even add it to the food."
My only regret was that I was too full to come back to the restaurant for dinner that night. Oh well, I guess I'll have to return to Hvar to sample more of Ivan's superb food.